Design: SP379

What it's all about

See All Screenprinted Family Reunion Designs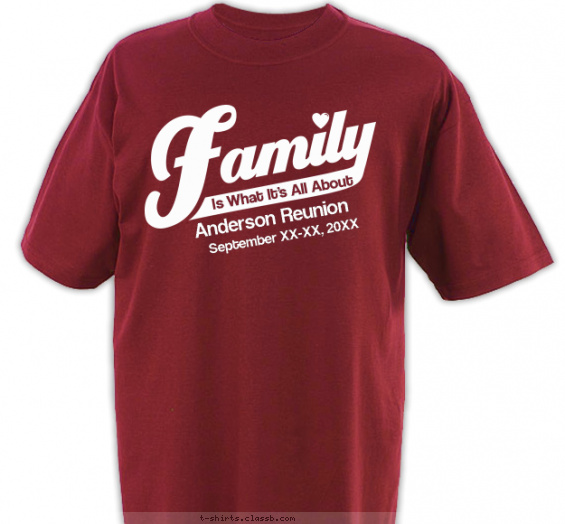 Prices quoted are for B110 100% Cotton Short Sleeve T-shirts
Favorite this Design Idea
| | |
| --- | --- |
| You can order after customizing this design idea online! | Our artists will work with you to customize this design! |
Digital Printed Sample only $18.95 - click Start Designing above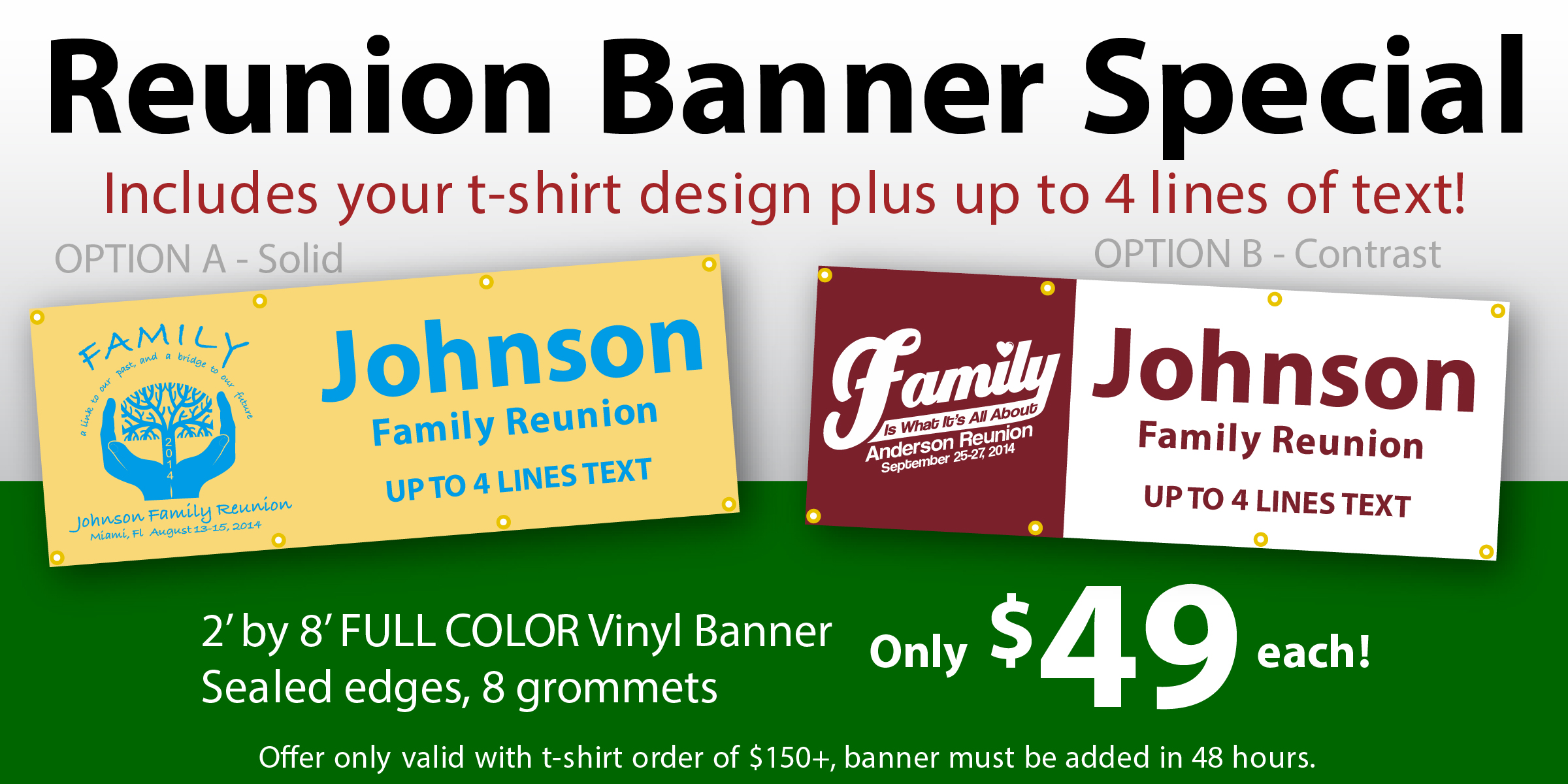 ---
What it's all about Design Description
It's not about the money, the car or the job. Family is what matters! Make your next reunion special with a shirt that reminds every member how special their bond is to each other. It's always nice to be reminded that the love of a family is what life is all about.
Customize this Design for your group
Customize your design online or ask us to do it for you at no charge! Shirt and ink color shown is the most popular. Change the shirt color, ink color(s) and add lines of text or graphics -- no problem!
Ink Colors
Choose from 38 different ink colors for your custom t-shirt order!
Fonts
Choose from thousands of distinct fonts for your custom t-shirt design!
Baby Tees
Choose from different styles of infant, toddler, and baby t-shirts to add on to your custom t-shirt order! Find out how add ons work
---
All Inclusive Pricing
Price includes garment and decoration! Enter your ZIP code and the approximate quantity of shirts you are ordering in the form at the top of this page for an instant quote, or:
Prices include a 1 color print on one side, FREE ground shipping, and FREE artwork & setups!
Prices include garment.
6+
10+
15+
20+
30+
40+
60+
80+
120+
150+
250+
$23.15
$17.25
$13.73
$11.96
$10.46
$9.45
$8.42
$7.91
$7.67
$7.27
$6.91
$9.80
$6.30
$4.73
$4.20
$3.31
$2.80
$2.23
$1.86
$1.54
$1.32
$1.12
$5.38
$3.92
$3.30
$2.81
$2.22
$1.83
$1.54
$1.29
98¢
81¢
66¢
Need 350 or more t‑shirts? Call today for a custom quote! 1-800-851-4020
Prices include a full color design digitally printed on one side!
Orders over $50 also get FREE ground shipping! Buy 10 or more shirts and get FREE artwork services!
$21.95
$18.95
$18.45
$17.95
$17.45
$16.95
$15.95
$14.95
$7.00
$7.00
$6.98
$6.56
$5.98
$5.87
$5.44
$4.93
Need 25 or more digitally printed t-shirts? Screen Printing
---
Turnaround
Order March 3 before 3
PM EST
Change date
arrives at your door:

arrives at your door:

Free Shipping with Fedex Ground® on all orders over $50
Free Shipping

If you order at least $50 worth of custom printed t-shirts, your order will ship FedEx Ground® at no extra cost to you! Fedex Ground® provides reliable shipping across the United States.

Need your shirts faster?

6 Business Day & 9 Business Day Rush Services. For an additional fee, we can deliver screen printed t-shirts in six or nine business days from when you order. Blackout dates and restrictions apply, so contact us ASAP to find out if we can help.
Free Setups, Free Artwork
You won't see any extra hidden costs on your order. There are no extra setups, screen charges, or art fees to confuse the price! Pricing is simple, predictable, and published on the site. You won't even pay extra fees for 2XL or larger shirts!
When comparing quotes from other screen-printers, don't look at their "per-shirt" price. Take their complete order total and divide it by the number of shirts you are receiving for an accurate comparison against our pricing.
---
Upgrade some of your garments!
Mix and match colors, sizes, and styles in any quantities to reach price breaks.
75+ shirts with a 1 color design on one side, each shirt will cost:
---
Customer Testimonials
Testimonials from customers who ordered design idea SP379 and left a comment in their survey: